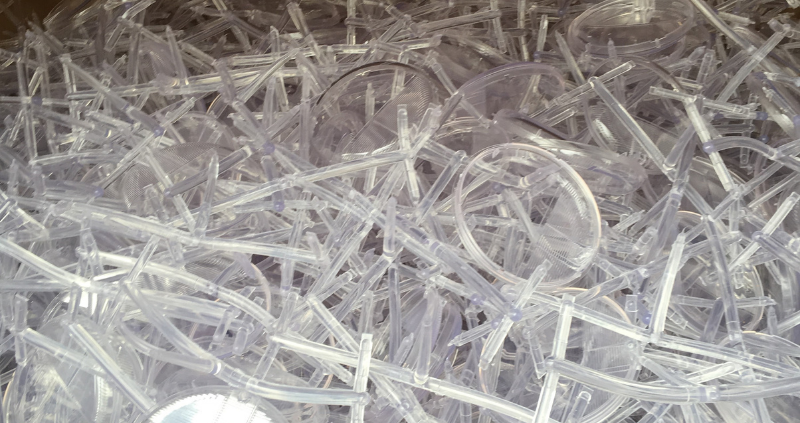 Plastic Scrap & Regrind Buyer in Florida
Plastic scrap and regrind buyer in Florida, Accel Polymers, has nearly 100 years of combined experience working with plastics manufacturers across North America. Because of this, they are able to offer a unique selection of high-quality services. Their customized recycling services benefit the manufacturer by providing a solution that lowers their bottom line as well as benefits the environment.
Accel Polymers has a continuous need for clean, high-quality plastic scrap and regrind in nearly every form. Their dedication to excellent customer service continues to set them apart from competitors in the industry. Accel Polymers offers a quick turnaround time, paying top dollar for clean scrap, regrind, and reprocessed materials. Accel Polymers will purchase plastic scrap and regrind from several different types of plastic, including ABS, Polypropylene, HIPS (High Impact Polystyrene), Nylon, PETE, and more.
Accel Polymers also has an extensive network of several dependable recycling partners throughout the United States and Mexico to ensure secure transportation of all materials. They guarantee that all materials are handled safely and responsibly so that you can rest easy knowing that your scrap and regrind are being recycled properly.
You can trust Accel Polymers to provide you with the highest quality services. Take away the headache of having to source, transport, and store plastic scrap and regrind. Let the experienced team at Accel Polymers take care of it for you. You can learn more about the services offered by this Plastic Scrap & Regrind Buyer in Florida below.
Plastic Scrap & Regrind Buyer

, Florida

Plastic Scrap Recycling, Florida

HIPS Plastic Recycling, Florida

HDPE Recycling, Florida

Polycarbonate Recycling, Florida

Industrial Resin Recycling, Florida

LDPE Recycling, Florida

Plastic Shredding, Florida

Low-Density Polyethylene Recycling, Florida

Nylon Recycling, Florida

High Impact Polystyrene Recycling, Florida

High-Density Polyethylene Recycling, Florida

Plastic Grinding, Florida
Contact the plastic scrap & regrind buyers at Accel Polymers for a custom quote today!
Phone Number
(314) 812-4878
Address
2 City Place Dr. Suite 200
St. Louis, MO 63141
Directions
Click here for driving directions.
Hours of Operation
Monday: 8AM-5PM
Tuesday: 8AM-5PM
Wednesday: 8AM-5PM
Thursday: 8AM-5PM
Friday: 8AM-5PM
Saturday: Closed
Sunday: Closed
Our Florida Plastic Scrap & Regrind Buyer Review Sites
Our Facebook Plastic Scrap & Regrind Page
Plastic Scrap & Regrind Buyer in Florida – Proudly Serving
Florida, Pennsylvania, Texas, Missouri, and Georgia.