St. Louis LDPE Recycling
When looking for a company to work with to recycle your plastic waste and scrap, you want someone who knows what they are doing and will value your time and business. When you choose Accel Polymers, you can rest assured knowing that you are going to receive fantastic services!
As a full-service recycling and compound company, we are able to meet our customer's needs and offer them the right services to ensure they are satisfied with their plastic recycling experience. Our expertise has even allowed us to specialize in the recycling of engineering and commodity-grade plastic scrap materials!
Doing so gives our clients more ways to lessen their carbon footprint and improve the sustainability of their business. This is why many of our client relationships are long-lasting, as we are consistent in providing quality services that reduce costs and improve efficiency for the businesses of those who we work with!
When you recycle with us, you will allow tons of plastic scrap to be reused as raw materials and experience excellent customer care in doing so.
Services Provided by Accel Polymers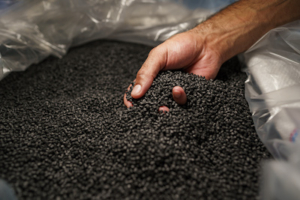 At Accel Polymers, we emphasize our range of services as it allows us to offer many options to those who we work with. We are even able to offer our clients LDPE recycling!
Offering services like these is one of the ways we continue to evolve and offer our clients innovative recycling solutions.
When you recycle your LDPE with us, you can look forward to an efficient process that yields efficiently recycled materials.
Other services we offer than provide the same successful results include:
Pelletizing

Shredding/ Grinding

Scrap Recycling

Reprocessed & Virgin Resins

Plastic Scrap & Regrind Buying
Find the Best LDPE Recycling Services in St. Louis
With over 30 years in the industry working with plastic manufacturers, Accel Polymers has been able to establish itself as a successful full-service recycling company that offers its clients sustainable and effective recycling solutions.
We constantly work towards adopting new recycling technologies so that we can evolve with our client's needs. In doing so, we have provided each of our client's solutions that are conscience of the earth and allow them to lower their carbon footprint while also improving their business.
Offering such recycling services also benefits our clients financially by positively impacting their raw material costs, giving you all the more reason to choose us as your next plastic recycling company!
With an evolving skill set that prioritizes our customers' needs, we are confident in claiming that Accel Polymers is the best plastics recycler in St. Louis. We are even able to offer our clients custom recycling plays, proving how dedicated we are to providing you with the right recycling program.
If you are interested in learning how we can serve you and your business, contact us today!