St Louis High Impact Polystyrene Recycling
As a full-service recycling and compounding company, Accel Polymers is proud to offer a variety of recycling solutions to fit our client's needs. With a focus on the recycling of engineering and commodity-grade plastic scrap materials, we are able to provide our clients with the services they need when it comes to plastic recycling.
When working with us, you can feel confident that your recycled materials will be reused as we aim to reintroduce plastic waste streams, meaning any plastics recycled with us will be reintroduced as clean raw materials.
This allows us to provide sustainable solutions for our clients as recycling with us has allowed many companies to reduce their carbon footprint and reduce their raw material costs.
Providing such exceptional services is why we find ourselves working with many of our clients regularly, building lasting business relationships.
With sustainable solutions that are sure to benefit your company, Accel Polymers is the right choice to make when it comes to finding your next plastic recycling business.
High Impact Polystyrene Recycling Services in St. Louis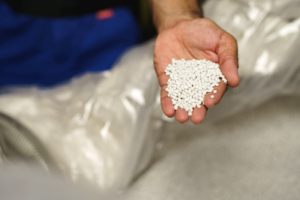 At Accel Polymers, we offer a range of services to ensure that our clients' recycling needs are being met.
One of these services includes our polystyrene recycling program, a service that allows us to sustainable recycle these materials, offering you an option that reduces bulk, costs, and seamlessly integrates with your existing business processes.
This is just one example of the many recycling and other services we offer that can help your business succeed and become more sustainable. Other services like these include:
Pelletizing

Shredding/ Grinding

Recycle Your Scrap

Reprocessed & Virgin Resins

Plastic Scrap & Regrind Buying
Trust St. Louis High Impact Polystyrene Recycling Services
For over thirty years, Accel Polymers has worked alongside plastic manufacturers to become a successful name within the industry. We are constantly looking for innovative recycling technologies that allow us to evolve with our customer's needs, making us able to constantly adapt to your most current recycling needs.
We are even able to offer clients custom recycling programs, giving you even more possibilities when it comes to disposing of plastic waste. This has allowed us to build lasting and sustainable relationships with our clients as we offer services that are tailored to each individual's needs.
We also work closely with our clients to ensure they are getting the most out of their recycling services by helping develop company-wide "green" initiatives, providing cost-effective recycling programs that keep waste out of landfills, offering consulting in developing recycling programs of your own, and so much more!
With a dedication to our clients and what we do, we are confident in saying that Accel Polymers is the best in the business when it comes to St. Louis full-service recycling companies. If you are interested in learning more about us and how we can serve you and your company, contact us today!